Below is a list of songs from Eureka Seven: AO's two original soundtracks.
Original Soundtrack 1
Edit
Release Date: June 27th, 2012
Artists: Koji Nakamura and Kensuke Ushio 
Disc 1 Tracklist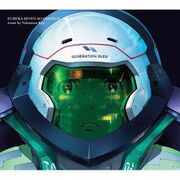 Astral Ocean
IFO-RA272 Nirvash spec-M1
Team Pied Piper
Welcome Home
IFO-RA272 Nirvash spec-M2
Girls Be Ambitious
IFO-RA164 Alleluia
Noah Noah
Got Butterflies
In Faith
Shimatonchu
Behind the Mask
Pied Piper Pipes
IFO-RA301 Kyrie
Sparkplug Revolutionary
Too Young To...
Tinsagu Nu Hana
Asadoya Yunta
Thatness and Thereness
OP Signal REAL
OP Signal ALERT
Ulterior Aim
Generation Bleu
Broken Wing
Slipping Away w-U
Contortionist
In Flames
Shiver
OP Signal LIVE
Anma Maman
Original Soundtrack 2
Edit
Release Date: November 28th, 2012
Artists: Toshiyuki Mori, Takashi Numazawa, Mitsuru Nasuno, Kensuke Ushio, Ryota Nishi, Yuji Katsui, Hisako Tabuchi, Yuichiro Goto Strings, Chieko Kinbara Strings, Kimio Yamane, Masaaki Kawamura, Kimie Shigematsu, Osama Fukui, Masanori Hirohara, Shinsuke Torizuka, Chiaki Omigawa, LAMA
Disc 1 Tracklist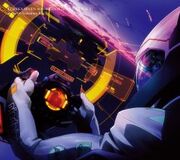 SECRET I - Emergence
OP Signal "Ambient"
Ulterior Aim - Surface
Ex-Hero
Inside the Bleu
Johansson Book
TRITON
C.E.O. and The Captain
Birth of a Yunta
Day in the Life
Sisters of the System
Petit Feud
Mirror Mirror
Static Energy
SECRET II - Expansion
Ulterior Aim - Submerge
Responsibility
VERSUS SECRET
SCUB CORAL I - Exterior
SCUB CORAL II - Interior
Shiver II
SECRET III - Exposure
SECRET IV - Adaptation
Visions of a Yunta
Psalms of a New Age
PARADOX
RE-PARADOX
The Awakening
Apocalypse or A New Beginning
Paralell Sign (Short Version)
Seven Swell - Based on "Niji" (Short Version)
Untitled
 In OST 2, the song "Seven Swell" is very similar to Eureka Seven's song "Rainbow" . The word "Niji" translates to "Rainbow". They both play in the last episode of both series near the last half of the episode.
Community content is available under
CC-BY-SA
unless otherwise noted.