Linck

Appearances:
First Appearance

Episode 3

Last Appearance

Episode 50

Voiced by:
Japanese
English
Biological Information
Age

3 years old (debut)(E7)
5 years old (ending)(E7)
19 years old (debut) (AO; if he appeared)
21years old (ending) (AO; if he appeared)

Race

Human

Physical description
Gender

Male

Hair color
Eye color
Personal Information
Family
Allies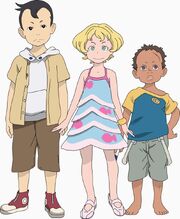 Linck is a 3 year old child character and a member of Eureka Seven, the youngest member in the first series.
He is also the adoptive son of Renton Thurston and Eureka, the adoptive younger brother of Maurice and Maeter, the adoptive older brother of Amber Thurston and Ao Fukai, the adoptive grandson of Adroc Thurston and Blau Thurston, and the adoptive great-grandson of Axel Thurston and Rose Thurston.
In addition to being Renton's and Eureka's adoptive son, Maurice's and Maeter's adoptive younger brother, and Amber's and Ao's adoptive older brother, he is also the adoptive nephew of Diane Thurston, and the adoptive great-nephew of Yucatan Iglasias.
Linck has a scar on his forehead from when Eureka attacked his parents during the Ciudades del Cielo massacre, and was only a newborn when it happened, he doesn't remember his biological parents at all.
Linck is the crybaby of the group, but this can only be expected due to his young age.
He is very curious and is less aware of the situations around him than Maurice and Maeter.
He is often the instigator of the pranks played on Renton by the three children in the beginning of the series, though he later comes around to Renton and begins to accept him once he realizes Renton is always there for Eureka.
Linck, along with his siblings, do not appear in Eureka Seven: AO and it is unknown what became of them.
Like his siblings, Linck loves Eureka very much and considers her to be his mother.
Linck thought that Renton wanted to take Eureka away from him and his siblings due to his feelings towards her and often enjoyed pulling pranks on him. However, by season 2, he takes a bigger liking to him, as he is often seen near him. Renton treated him like his own son and spent time with him. However, he didn't fully accept him as his father until the end of the series.
Linck loves his siblings, Maurice and Maeter, and is protective of them. As for his adoptive parents' biological children, he never meets Ao because he was born and raised in an alternative universe, but he may have met Amber until the newborn girl's death. In total, he has one older brother, one older sister, one younger sister and one younger brother.
He and his siblings' names are a reference to the playwright Maurice Maeterlinck.
Linck (along with his siblings) is one of the most hated characters of the anime.
Community content is available under
CC-BY-SA
unless otherwise noted.